My heart is full today as I think about the newest addition in our family.
Tristan was born on Sunday, November 9, 2008 at 12:13pm.
He was two weeks early and came into this world weighing 7lbs 4oz and 18.5 in long.
He looks just like my other beautiful grandson Tanner, who at first was a little confused about the little person in mommy's arms when he walked into the hospital but then said, "the baby" and reached over to give him a kiss.
Angel went into the dr.' s on Friday and was waiting to hear from her dr. to see if they were still going to induce on Monday. She didn't hear anything on Saturday so she was a little frustrated. Around Saturday night about 9pm she started having contractions that were a lot stronger than the ones that she had been having all week long.
She didn't sleep all night because they were pretty painful. Around 6am she called me to tell me that her contractions were 7 minutes a part so I told her to call the dr.
Right before she could call, the dr. called her to tell her that she needed to be induced...THAT DAY because she was spilling a ton of protein in her urine and to come in...NOW. Angel told her that she was having major contractions. Turns out she didn't have to be induced..because she was already in full blown labor!LOL
We got there around 9am and she was already 5 cm dialated and completed efased. She had Tristan just 3 hours later.
I've been at the hospital up until a few hours ago because I hadn't slept all night. I stayed the night with ANgel and Tristan so that Christian could put Tanner to sleep and be with him while mommy was with baby.
Angel will be at the hospital until tomorrow.
Thank you to everyone that has called and emailed me. I know you are dying to see pictures, so here are some of my favorites. Sorry for the babbling. I totally haven't slept much. LOL (so worth it!)
Great grandma and Great Grandma with Auntie Myrna.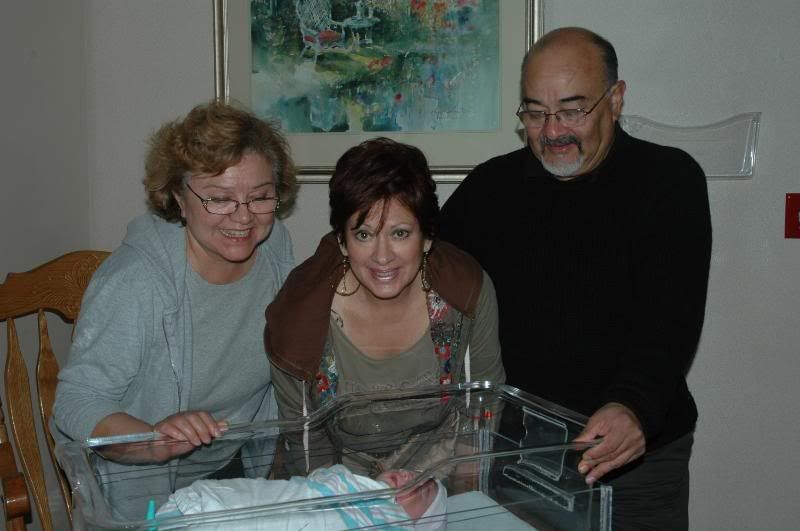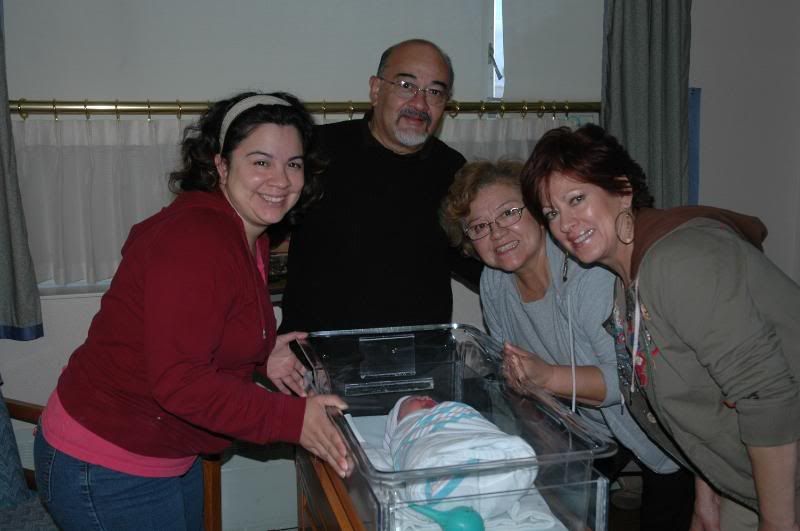 Angel and Christian holding the baby together for the first time!
All of these are pictures of Tanner and his baby brother!! I LOVE THESE!!